Sample rack layout in an archive
We are pleased to introduce you to mobile racks which enable the most economical use of space for safe storage of various types of documentation. Their mobility enables minimising the space occupied by the racks by maintaining only a single aisle – precisely the one needed at the moment. This allows to recover as much as 80% of the surface, which would otherwise be covered with traditional lockers.
One of the most advantageous features of those products is their easy operation which is achieved thanks to a special practical rails system placed on the floor surface or embedded in the floor. Moreover, mobile archive racks are very safe, fitted with protection against accidental sliding as well as a lock for the safe locking of the entire range. The specific parameters depend on the Customer's preferences.
Technical description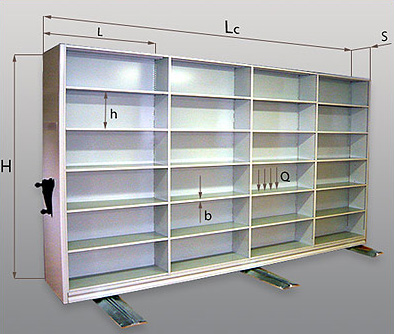 Description:

Lc – rack length (up to 12000 mm)
H - height (up to 4500 mm)
L – shelf length (900-1200 mm)
s – shelf depth (200-600 mm)
Q – max. shelf load (80 kg/m)
b – shelf thickness (30 mm)
h – distance between levels adjustable with hooks of 20 mm spans
Rail systems diagram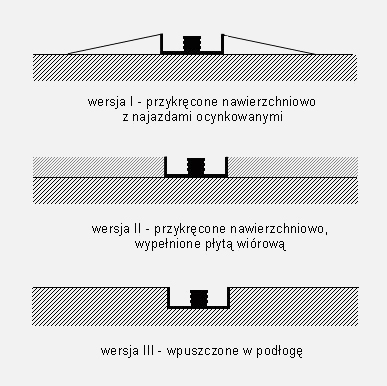 Technical specifications

PARAMETER

DESCRIPTION

Rack
Rack length Lc [mm]
12000
Rack height H [mm]
up to 4500mm
Shelf length
900-1100
Shelf depth s [mm]
200-600
Shelf max. load Q [kg/mb]
80 kg/mb
Shelf thickness b [mm]
30 mm
Span between shelf levels h [mm]
Adjustable with hooks with 20 mm spans
Partitions A
Full / partition concentrations
Crank wheel [kg]
Sliding force of approx. 5
Drive
Chain with a crank wheel with a built in locking mechanism
Front panel
Covering the drive mechanism
Required ceiling load [kg/m2]
Depending on rack size and layout
Rails
Rail length
Adapted to room size
Rail type
Galvanised steel – option 1
With ramps on both sides
Galvanised steel - option II
Rack own floor (laminated particle board placed freely between rails)
Galvanised steel - option III
Embedded in the floor
Our projects
The wide selection of racks allows to tailor them to the Customer's needs and preferences. We ensure fully professional installation of the systems we offer.